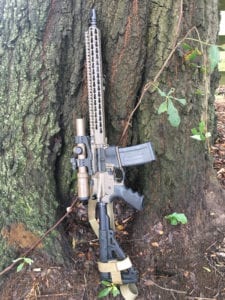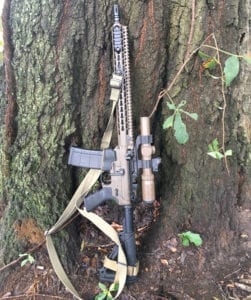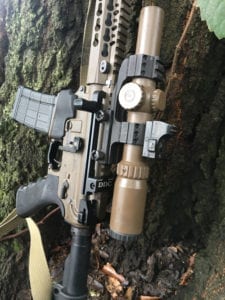 After over 15 years of building, shooting, and training with M16/A15 platforms, I've narrowed it down to the most reliable, rugged build, that you can do yourself.  With these parts, you will come out with a build that in my opinion gives companies like LWRC and Daniel Defense a run for their money.  This is a combination of parts from various manufacturers.  We will start with the lower receiver.
I use my own "American Resistance/556Guys" lowers (https://americanresistancegear.com/product/556guysamerican-resistance-lower-receiver/ ).  Ours are mil-spec forged, and have an added bonus of M16 pockets for the fire control group.
Anderson mil-spec upper receiver.  Nothing special about their uppers, other than they fit great and I've never gotten one that's been out of spec.  For the BCG, I run a Nickel Boron coated M16 BCG from American Resistance https://americanresistancegear.com/product/american-resistance-nib-bolt-carrier-group/
HandGuard is made by Bravo Company.  This is the KMR Alpha Keymod 15″.  I also prefer the Troy Alpha Rail.
ButtStock and pistol grip are both made by Hogue.  I choose these based on personal preference of how they feel.   The Hogue stock won my heart due to the fact that it doesn't pull out my facial hair while cheeking the rifle.
ALWAYS USE A MILSPEC BUFFER TUBE!!!!  This will save you some frustration later.
I run an American Resistance billet oversized triggerguard as well https://americanresistancegear.com/product/ar-billet-trigger-guard-extended/
Optics like most AR accessories, are extremely preference driven.  For me, it's the Burris MTAC 1-4X24 rifle scope https://americanresistancegear.com/product/burris-mtac-1-4x24mm-rifle-scope-illuminated-ballistic-ar-reticle-matte-combo/.  There's a bunch of factors that make this optic number 1.  At a price of $600,  it has it all.  Scope, one piece mount, red dot, and night vision compatible.  The 1-4X24 scope can be set to 1 power, turn on the illuminated reticle, and it can be used like a red dot optic.  No eye relief needed when using it like this.  The glass is fantastic as well.  It comes with a Fast Fire 3, which in my opinion, isn't really needed on the rifle.   You can take it off and use it on your Glock or some other weapon.  I've Cerakote'd mine, thrown it around in the truck and abused it at the range and it's never lost zero in over 3 years!  It adds a bit more weight, but not enough to disregard it as a positive choice for optics.
For a charging handle, I opted for the Side Charging Devil Dog Concepts Hard Charger Rear https://americanresistancegear.com/product/devil-dog-concepts-hard-charger-hcr-rear-mount/.  With the optics I'm using, this allows me to charge the weapon without fishing under the scope.
An A2 flash hider is all you need.  The 223/556 doesn't have enough kick to justify a muzzle brake in my opinion.
Lancer is my choice for mags.  I like the metal feed lips.  Haven't seen a single issue with them in the last year+ so I'm sticking with them.
Now lets get down to the meat and potatoes of any AR build: The trigger and barrel.
Spikes Tactical's 16″ Cold Hammer Forged barrel is by far the best I've tested.  You can't destroy these things.   Since this barrel is a midlength gas system, you will want to run a H2 buffer.  You don't have to, but it's ok to go up in weight on your buffer, it's when you go down in weight that it can be problematic.  This heavier weight will also help if you run a suppressor on your weapon.
For the last 3 years I've been using a Geiselle SSA-E 2 stage trigger.  Well, I'm a bit let down with it.  The 2 stage aspect of it quit.  Sometimes it's a 2 stage, and sometimes it's a single stage.  This is the second one that's done this to me, so I'm quitting the 2 stage.  I've been trying out the Hiperfire HiperTouch 243G https://americanresistancegear.com/product/hiperfire-243g/ for a few years now and it's really proven to be the best trigger on the market.  It's fully adjustable from 2.5lb-5lbs.  Every Hiperfire trigger I've used has shocked me at how crisp, clean, and solid they are.  They don't come with any gimmicky crap either.  They're just a badass trigger.  On a side note, their customer service is second to none.
All in all, this set up has never given me a fail to feed, fail to eject, fail to shoot, light strikes, or any malfunctions while firing suppressed.  When it comes to building AR's, you get what you pay for.  I understand you can build one on a budget and it can run perfect.  However, when you put the extra though and money in it, you will notice the difference.
WHAT DOES A.R. STAND FOR?  ADDICTIVE RIFLE.